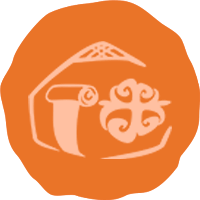 The history of "Supara" is unique, because project's creation, design and implementation fully worked out by Tabyldy Egemberdiev – president of Shoro Company. Although earlier businessman does not show himself as an architect, this time it turned out that eminent architects, of whose services he approached, could not carry out his plans. Unsuccessful meeting with the architects did not stop Tabyldy Egemberdiev on the path to implementing his ideas. He was able to cope with it, finding the right way.
The very idea of ​​ethno-complex requires the exclusive use of the natural materials available to the ancestors. When building the facilities were used stone, clay, wood, straw, reeds, chii and leather. Tabyldy with his wife Janyl, and their team worked briefly, but persistently, giving stunning results. Despite the fact that a lot had to be done by their selves, we can say this is one of the few cases where "all that what was done – was done to the best!".
As a proof, the title of Best Architect that Tabyldy Egemberdiev received after the building of "Supara". According to its plan – the ethno-complex should reflect the nomadic life of Kyrgyz people and their way of life, culture and traditions, in short, to become a spiritual heritage. This included all what is part of the glorious Kyrgyz history: yurts, fire places, horses, hunting and … a special delicacy in hospitality. After all, the Kyrgyz were famous for the ability to regale guests. Task of bringing it all together into a single concept still remained. A hard task, specially when the prelude of "Supara" was the idea of Egemberdiev, which appeared on the paper a few years ago. But the desire to recreate his native country ethno-complex was particularly acute, especially after its frequent business trips abroad. It seemed that, there abroad, the Kyrgyz history was treated with a special thrill. And unfortunately, sometimes we had even nothing to show to foreigners! While having such reflection came up the opportunity to get some hectares of available land. Indeed it was not very attractive. Implementing the draft there cost a lot of effort, given that the ground for the construction had to be elevated. In a short time, the depression became a drained swamp, and the spring-water station – cause of swamping – became a source of pure spring water.
The singularity of "Supara" was that the construction work began without a definitive project. Becoming construction superintendent, in a single man, designer and architect, Tabyldy Berdigulovich incarnated the first part of his dream for half a year. All was created by intuition, step by step. All stones used in construction of houses, were found in same soil during excavation. These stone houses were brought to complete real life through the talented hands of carpenters, blacksmiths and seamstresses, whose work calls instinctive admiration. Forged lamps in the form of the sun and moon, hangers from bark, reminiscent of ancient sleigh (sani), tables and chairs of original forms, fireplaces paved from the same stones, doors decorated with shields of ancient Kyrgyz soldiers – literally everything reminds us of our deep roots! Needlewomen also invested considerable effort: carpets of pure felt, pillow, toshoki (thin mattress), kurak (kyrgyz patchwork) and embroidery – are the result of many days of hard work.
At present the bulk of work carried out not less than seven yurts -differing in size, interior design and style – and the complex is already successfully operating. One of the yurt has a rather restrained decoration consisting of Saimaluu-Tash petroglyphs, which cover the entire domed portion. In another one, the interior is decorated with 40-50-ies tush-kiyiz of XX century, hand-forged log holders in form of deers and leather belt with figures of tunduk related to the Kyrgyz people's history.
Ethnic complex Supara has the world's largest yurt, with an area of 350 sq m, the other big yurt named Ordo for different kinds of celebrations, such as weddings, kyz uzatuu(seeing the bride), tushoo-toi(child's first steps). Besides that, Supara has stone,clay and straw houses, summer guest seats as topchans. Choosing a name for the ethno-complex lasted for almost one year. Dozens of different names were considered when finally the word "Supara" arose at the last moment, just a week before the complex's registration. Supara is an ancient leather tablecloth and, by its meaning as how it sounds, revealed to be the exact name that was intended.